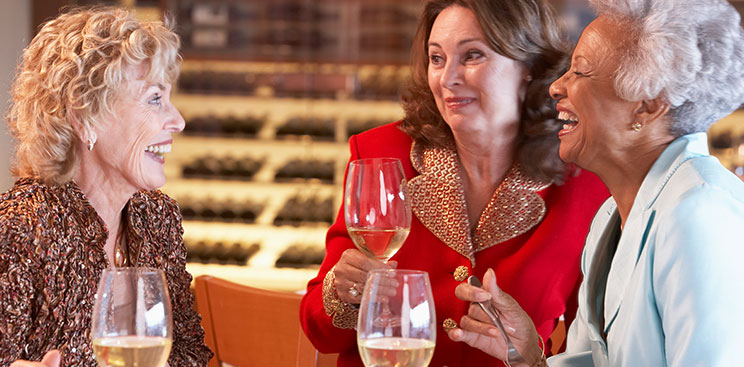 Hearing loss often inhibits people from wanting to leave the safety of their homes to venture into a restaurant. The challenges of eating at a restaurant are many for those with hearing loss. Restaurants are usually busy environments, with multiple conversations taking place all at once. The constant clinking of silverware, the blaring music, and the chatter of other customers can all add to the difficulty in hearing. Despite all of these challenges, you can still enjoy your next night out at your favorite eating joint with the following suggestions.

First and foremost, it is imperative that you choose the ideal restaurant to suit your hearing needs. This means selecting a place that is comparatively quiet and has softer background music. Restaurants situated on the main road have the added noise of traffic, thus choosing a place that is in a nice, quiet alley may be more prudent. You can read online reviews of your restaurant of choice beforehand to see whether the environment is quiet enough for your liking.

People often make the mistake of visiting a restaurant when it is extremely busy during its peak hours. The lunch rush usually occurs between 12-1:30pm and the evening rush usually occurs between 6 to 7pm. These are the times you would be wise to avoid if you do not wish to be bombarded with a hoard of customers and excessively loud music. The same goes for public holidays or any special occasions such as Valentine's Day, where all restaurants are jam packed with customers. You can call your chosen restaurant beforehand to check when their slow hours are so that you can schedule a visit to the restaurant during those times.

Most restaurants are willing to accommodate all patrons; you can always make a special request with the restaurant you wish to visit, explaining your hearing needs. You can ask them to book a table for you that is far away from the kitchen or request them to give you a booth if they have them.

People who wear hearing aids can benefit from sitting in a place so that the majority of the background noise occurs behind you. Since directional microphones have noise cancellation, they focus more on the sounds occurring in front of you. This is why it is better to sit facing the person you wish to converse with during your time at the restaurant, while keeping the background noise where it belongs; in the back!

Make sure you take a seat at the center of the table so that you can hear both ends of the table during your time at the restaurant. Sitting at one end of the table will make it difficult for you to hear what is going on at the other end.

Nowadays there are so many new types of technology that can be of assistance to those with hearing difficulties. Assistive listening devices can help you hear better since they consist of an FM microphones as well as a receiver. The microphone can be positioned right at the center of your table while you wear the receiver that is looped around the neck. Alternatively, you can have the sound transferred directly into your hearing devices so that you can hear what is going on at the table with ease. You can discuss added accessories to your hearing aids to see how you can boost up their productivity with your audiologist.

Hearing loss does not have to make you shy away from your next dinner appointment. You can enjoy a splendid meal as well as participate actively in meaningful conversation with the help of hearing aids. Just take a few extra measures to make sure you have a comfortable, enjoyable dining experience.